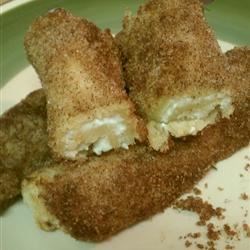 These are a take on the classic cheese blintze – fun to make and a huge crowd pleaser!  I've served them at large parties and small family dinners alike, always with great results.  The recipe makes quite a bit (about 100 2.5-ich pieces), and they freeze beautifully.   Heat covered in the oven before serving.
INGREDIENTS
2 — (8-ounce)  packages cream cheese, softened
2 — egg  yolks
1 cup  sugar
2 loaves sliced  white bread, crust removed
1 cup (2 sticks) butter,  melted
1 Tbsp  Cinnamon
1 cup  Sugar
DIRECTIONS
Beat together cream cheese, egg yolks, and sugar in a large mixing  bowl.
Roll bread slices as thinly as possible with a rolling pin.  Spread  with cream cheese mixture.  Roll up and dip in melted butter.   Sprinkle with cinnamon and sugar.  Cover with plastic wrap and freeze.
Preheat oven to 400F.
Remove Mini Blini from freezer and cut each piece in half.  Place on  a baking sheet and bake 10 to 13 minutes or until heated through.